Yes, I remember there are many threads about this.
Perhaps I should have said "how many have not experienced this"instead.

Red light on SDS ? Push RST.
And fan noise?
It is working now. A power cycle was needed. Installed today a sonoff in another junction box where the cable comes from to be able to remote power cycle for the next time

That looks cool! If you have space in your case, a horizontal orientanion of the SDS011 might save you from a noisy fan later.
Is that a heating element in the inlet? Was this custom?
I assume you mean the PCB under the ESP? No this is just a breakout board. The ESP board is just plugged into it. So i can change the ESP board without dealing with cables and connectors.My first plan was to power the ESP also with 5 volt via the breakout board but I got it only running with supplying it via the USB-port. The sensor box lives under my Carport thus I hear nothing from it. On the other hand if there is some Fan noise it not really will bug me

Not the PCB
I mean this.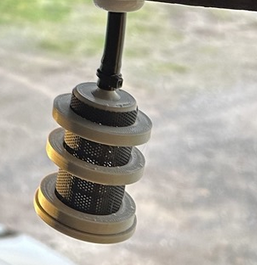 @Moebius, how much time and effort did you invest in these sensors. I would like to install a similar one…

This was not a one weekend project

If you want to rebuild it I can try to bring together the links to the parts as well as printed parts.
I published all things I could find on printables


https://www.printables.com/model/327415-printable-parts-for-luftdaten-project