Hi everybody
I have lost a few hours figuring out what was wrong, so I would like to share my experience.
I bought my second pre-installed Nettigo kit, and followed the instructions carefully.
The red LED of the Power supply was working, the blue LED of the device was blinking, but no configuration ("airRohr*") WIFI was detectable, tried with my laptop, tablet, fairphone…
So, I checked all connections, uploaded 3 different firmware images, cleared the flash multiple times, restarted from zero… Nothing would work!
In the guide, I then saw under "USB cable problems?" that you could see the logs of the device.
So, I installed Tera Term and connected to the device via the USB/serial connection, and then I saw in the booting message that everything looked fine: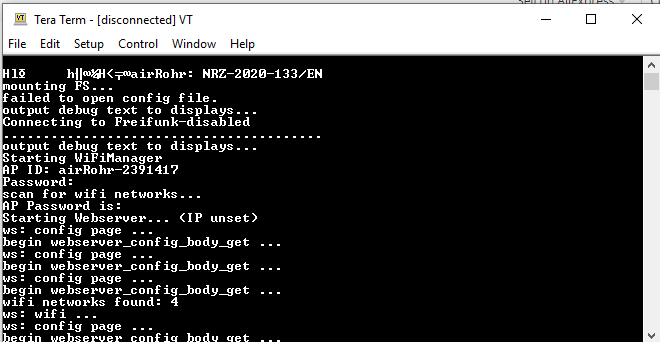 And indeed, the WIFI was working all right!
This made the USB power supply the main suspect, and indeed, tried charging my phone with it, it did not work. Used another USB power supply, and worked like a charm since!
I guess the supplied USB power supply in the set is a bit too cheap to be true.
Dominique