Hi all,
I am new to this community, so please be patient with me

Today I have set up my community kit from nettigo .
In the process I accidentally connected GND of the BME280 to 3V3 on the NodeMCU and VIN to GND. I realized when the temperature sensor did not work at all in the beginning (but this was also caused by the firmware to be configured to use the DHT22 temperature sensor).
After correcting the connection and the settings, the SDS011 is working fine, but the BME280 delivers values that are a totally off. Temperature -146.9 °C, pressure 616.67 hPa, humidity 100%. Also these values stay constant over time.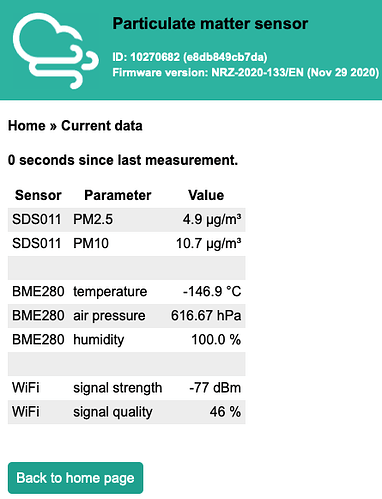 Questions:
Do you think I damaged/destroyed the BME280 by wrongly connecting it in the first attempt?
Or is it rather that this sensor was already broken in the first place?
Any other hints how I could fix the problem?
Thanks for any help.
Best,
Niklas