Look at the field R2.
http://www.aqmd.gov/aq-spec/evaluations/summary-pm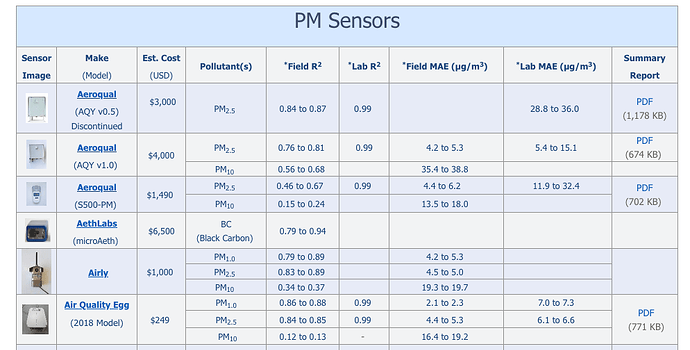 The takeaway is that many products are unreliable, and more curiously in many instances the newer products are worse. However purpleair seems to be pretty good, especially when you account for the cost. It also confirms that SPS30 is pretty unreliable when it comes to pm10.
No SDS011? Coincidentally, I heard today that there is an SDS011 in the Aeroqual AQY…
Does anyone know if any of these have SDS011 inside? Or Palmtowers without the corrections / redundancy of PurpleAir?
Seems you are right, at least for the AQY v0.5.
Airly appears to be using PMS5003.
For the price and for the perfomance it offers Purpleair is pretty good. And when one of the sensors starts playing tricks you'll know it immediately. No wonder why they use it in some scientific projects around here.